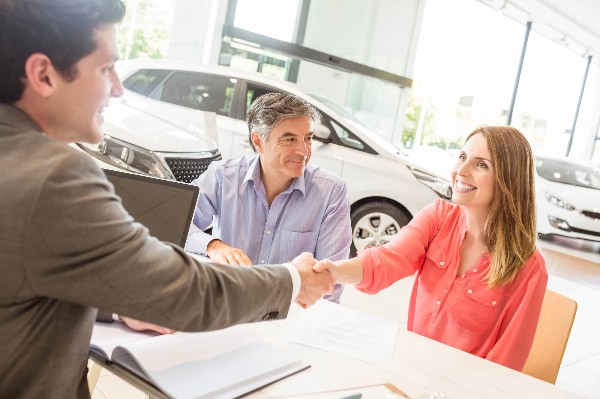 This year, sales of new cars are set to outstrip previous estimates and rise to a total of 15.47 million vehicles sold. As fuel costs rise, it makes sense to upgrade to more efficient, new models. But how do you find the new vehicle that is right for you?
With so much choice and many factors to consider, it can be tough. Below we give our essential guide on how to buy a new car.
1. Know Your Budget
Setting a budget when you buy a new car is very important. If you are financing the car, you may end up not being able to make payments if you are over budget.
Even if you are buying outright, you should consider the extra costs. Just because you can afford a car in cash or with a loan, does not mean you can afford the monthly associated costs. Work out fuel consumption and average insurance prices before you commit.
Many people now consider leasing a car long-term. If you decide on this route, make sure you have factored the monthly payments into your household budget. Anyone getting a loan may wish to get preapproved to make the sale quicker.
2. New or Used?
There are arguments for and against buying a new car or a used one. You can expect to pay more for a new model and with the current parts shortage, you may need to wait a while to get it. The new car benefits are that you know its history, quality and it will often come with guarantees and warranties that save money in the long term.
However, much of the value you pay diminishes once you take ownership, as it is no longer new. Consider buying a newer model that has only one previous owner. This allows you many of the benefits, but without the brand new price tag.
With a used car, you can get some great vehicles at lower prices. The only downside is that the car has been used. You may get one that has problems or needs lots of repairs.
Many people now consider leasing a car long-term. If you decide on this route, make sure you have factored the monthly payments into your household budget. Anyone getting a loan may wish to get preapproved to make the sale quicker.
3. Research the Car
Now that you have a budget, you can decide what type of car you want to buy. The choice is limitless when you purchase a new car, so start with the type of vehicle that best suits your needs. From SUVs to small city models, knowing this can help you narrow down the field.
You should also consider listing must-have features and ones that you would like but are not essential. This can help you determine what better suits your needs when it comes to selecting models or even trim levels.
After this begin to research models. Visit manufacturer websites and narrow down the types they have. Shortlist a few you may be interested in, then do independent research on their ratings, strengths, and weaknesses.
4. Calculate a Fair Price
You should now have cars you are aiming to buy that suit your needs. So you pay the right price, it helps to calculate the rough cost.
When you visit a dealership to look at cars, you will see a manufacturer suggested retail price (MSRP) cost in the window. This is set by the manufacturer and is their suggestion of what the car should retail for.
Added to this will be a destination charge. This cost is added to get the car from the factory to the dealership.
These prices are guidelines and as such, the dealer can move them up or down. It all decides on how badly they want to sell the car. When in high demand, prices will be raised as it is more likely to be sold.
Your final price may also be adjusted according to any extras you ask for. Tinted windows, extra trims, wheels, and extended warranties can all add to the price.
5. Schedule a Test Drive
One of the biggest advantages of purchasing from a dealership is that you can test drive the car. When purchasing privately, people don't take kindly to you turning up for a drive then not buying. However, with a dealership, you can test the makes and models you want.
It may surprise you how much this can change your opinion of the vehicle. You may suddenly find the interior is not comfortable, or the car does not handle as well as you expected. Ask the dealer's opinion and they may be able to suggest others for you.
The only other way to get around this is to hire the model for a few days from a rental company. While it will cost, you will get a more long-term view of the car you are buying.
6. Compare Dealer Quotes
Once you have the new car in your sights, start to compare quotes from different dealers. Cross-reference their price with the ones in the research you have done.
Make sure you discuss any possible discounts. Some places may give veterans, students, and even members of credit unions discounts. You should always contact the dealer and give them the chance to match the quote you have been offered elsewhere.
How to Buy a New Car
Now that you know how to buy a new car, organize your budget. Narrow down the models, then contact local dealerships. With a little flexibility, you are sure to get a great deal.
Mckinney Dodge should be your first stop for new and used vehicles in the South Carolina area. We have a huge stock and will even buy your old car. Click here to find your nearest branch and you could be riding away in a new automobile today!